[Update, 16/01/06 6:27pm: SOMEONE launched an attack on the pics in a bid to destroy evidence. The pics for this entry have been restored.]
I am sure you guys are wondering why xiaxue has not said anything about
the exposé
. After all, if one is really innocent, wouldn't one speak up on one's high profile blog?
"Maybe she hasn't seen
the exposé
yet?", you think. Well for those of you who have not been following the chaos occuring after
the exposé
, you wouldn't know that tomorrow.sg has been implicated in the whole saga. Let me show you that she has indeed seen
the exposé
but is still formulating a strategy before she responds.
You can see from the screenshot (from bloglines) below that she has changed her nick back to xiaxue, in posting her recent entries.
Also, she compromised tomorrow.sg's editorial integrity in her attempted coverup and was caught red-handed by a reader (Thanks Shannon!) when she deleted my trackback from tomorrow.sg multiple times.
For those who are lazy to type out the urls in the email, here they are [
1
,
2
,
3
,
4
,
5
,
6
,
7
,
8
]. I must thank
Agagooga
for trying to uphold tomorrow.sg's editorial integrity and foil xiaxue's coverup attempts that night.
Now unlike xiaxue, sandralicious has chosen to speak up. She clarified that although she has said certain not-so-nice things about Blinkymummy in the past (like those in the screenshot captured below), she wouldn't stoop so low as to set up a hatesite for blinkymummy using my nick.
After reading her entry, I am not sure whether to believe that she was not involved AT ALL, or not (because the plot gets deeper as you shall find out in a while). Here's a screenshot of sandralicious's site showing the 3 of them at Wala's. Sorry, but I couldn't resist the caption.
Sandralicious aside, we know for a certainty that sillycelly was involved in the hatesite in some way or another, as the poem about blinkymummy that was posted on the hatesite was shown to be written by sillycelly [Read
this
].
Also, I discovered this comment posted by sillycelly when I was looking through sandralicious's entry where she called blinkymummy an elderly.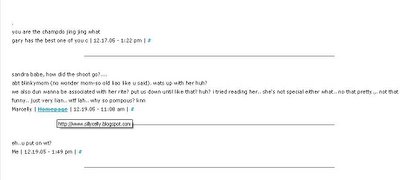 At the point of writing, I saw that sillycelly has spoken up about the issue. However , unlike sandralicious, she has not outright denied her involvement in the hatesite (see screenshot taken from sillycelly's blog below).
I think sillycelly did not expect that the issue would be blown up to such a large extent - and when it did, she just wants it to end, as you can see from her words to blinkymummy.
Sillycelly this message is to you: If you want this issue to be resolved, first 1) admit publicly to your involvement in the site, 2) tell us who else are involved (Is sandralicious lying or telling the truth?), 3) apologize.
I believe that all of us will forgive you if you choose to do those 3 things.
Now I want all those who are sitting behind your monitors with popcorn in hand to understand one thing: To you all, this may be just a silly blog war between "Team Blinkymummy and Xialanxue" Vs "Team Xiaxue, Sandralicious and SillyCelly". But don't forget that to the people involved, reputations are at stake! This is a serious issue for us.
At this point I would like to announce a very important new discovery. I noticed that a new contributor was just added to the hate site:
Now, previously I have received some emails from readers asking me to find out why Mr Brown's link is on the hate site. So I sent an email to Mr Brown to clarify. The following screenshots showed our correspondence.
I am quite sure Mr Brown has no part in this whole saga
, but what infuriates me is that a new contributor was just added to the hate site (previously under contributors, there were only 3 authors but Mr Brown's link was already on the site - But as you all can see from the screenshots above, Mr Brown has clarified with me that he is not involved in the hatesite at all). I believe that xiaxue is the mastermind behind the website and is trying to implicate more people into the mess she has created. xiaxue, how can you be so despicable??? I thought Mr Brown was your friend! (Okay, now you guys should understand why I say the plot thickens - So was sandralicious also set up by xiaxue in this way or was sandralicious lying???)
I am now anticipating xiaxue's next big move. I believe that she will once again
manipulate the media just like what she did in the disabled toilet issue, to spread her own propaganda about what she has done
. We must not let that happen! For those who are reading this, I am sure you guys know that not everyone reads blogs - so I need you all to help me spread the word around to your friends via msn/email/phone, in case this issue is reported wrongly in the newspapers.
I would like to express my heart-felt gratitude to all the bloggers and readers who have helped out one way or another to spread the message out - without you guys, she would have won the battle, she would have succeeded in her coverup and gotten away with what she has done. I would like to thank all those who have taken all the relevant screenshots and emailed them to me - especially the one who made the small but highly significant discovery at bloglines. Without your help, I would not have been able to keep track of and manage the chaos following
the exposé
myself.
For those who think that what xiaxue did could not have been potentially damaging, look at these
wrong messages
[Read
this
and
this
] (by using my nick in the hate site, she has succeeded in confusing some readers) sent out by some bloggers (whom I believe only read the hatesite and maybe blinkymummy's site, without understanding the actual circumstances surrounding the hatesite). If I had not discovered the hatesite myself and spoke up about it, I am sure her plan of framing me to get back at Blinkymummy might have just worked.
Trackbacks:
Xiaxue - The Exposé [xlx]
Know your bloggers* [Blinkymummy]
Technorati tags:
Racism
,
Xiaxue
,
XX
,
Singapore
,
MDA
,
ARM
,
Blinkymummy
,
Exposé
,
xialanxue
,
xlx
,
Petition
,
Impersonator
DISCLAIMER: YOU AGREE TO BEAR FULL RESPONSIBILITY FOR CONTENT POSTED BY YOU. THE AUTHOR OF THIS SITE DOES NOT MONITOR OR EDIT THE CONTENT AND IS NOT RESPONSIBLE OR LIABLE FOR (1) ANY CONTENT, INCLUDING BUT NOT LIMITED TO, ANY INFRINGING, INACCURATE, OBSCENE, INDECENT, THREATENING, OFFENSIVE, DEFAMATORY, TORTIOUS, OR ILLEGAL CONTENT, OR (2) ANY THIRD PARTY CONDUCT, TRANSMISSIONS OR DATA.